Winter Solstice Water Orb – Glenade, Ireland.
€120.00
There is a stillness to winter solstice, a deep exhale that allows one to contemplate the silence. This essence is about listening, silence and everything that an exhale allows; a letting go, particularly of judgment and control. This essence is very helpful when holding space for other people or the landscape without trying to have any influence over the outcome. When we hold space for others, we can open our hearts, offer unconditional support, and let go of judgment and control. This essence is for those who prefer protected safe places that you can control wherever possible. This means that you generally don't like people coming over uninvited, and that you have firm internal rules about what is a safe place, and what isn't. Your idea of safety can be quite stringent compared to that of others, and is often anchored more to protected places, than to certain people. In addition, you will regularly seek out seclusion in order to find nourishment, wisdom or energy. Conditions are optimum when your safe place is also a space where you are guaranteed seclusion. The essence which is best worn around your neck when needed for long periods, allows for this feeling of safe space to be with you in the more trying times.
Related Products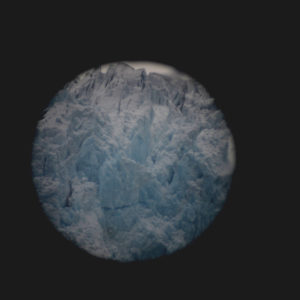 Calving Glacier Arctic Essence Orb
Calving Glacier – Instant light – Krossfjord |Arctic
79.1500° N, 11.7500° E
This essence brings instant light to an individual. People who work with light in its various forms are highly likely to attract strong challenges from diverse and sometimes dark energies from time to time. This essence very helpful for those that seem to take on the energy or emotions of others.
This essence provides a soul shield protection on multiple levels while helping us to bring the light we carry within safely through with strength and certainty.
It is particularly helpful for practitioners/ therapists/counsellors.
It allows a letting go of social and religious conditioning.
Breaking of repeated karmic patterns, very quickly.
It is a very ancient essence that brings a primal purity to one.
It was made at the moment of the formation of an iceberg, which is releasing the past and bearing witness to the last phase of life. It is an essence for transformation.
It is also very helpful to those that are in hospice care and for those looking after loved ones who are very ill.
When making an essence I take a small amount of the water, which holds all of its history and potential, and make the essence by taking a drop of the water and adding it to 100 drops of pure rainwater. It is how the energetics of the place can be felt, and come forth. Turning the water into an essence makes it capable of treating the emotional, mental physical, and spiritual levels. I have chosen to do it this way not only for its energetic properties but also because the Earth's water and natural environment are so precious.
*The products offered on this website are not intended to treat, cure, or prevent any illness or disease. If you have or suspect that you have a medical problem, consult with your physician for diagnosis or treatment.*
€

120.00
Add to cart